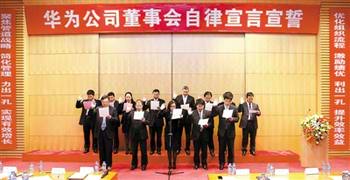 You must first be enlightened outside, meaning that you must first calm the civil disturbance before you can resist the nephew. This old saying is perfectly applicable to Huawei. A few days ago, Huawei held a "Swiss Self-regulatory Declaration Oath" conference at the headquarters. The executives solemnly promised that they would establish a straightforward example. Therefore, Huawei knows clearly that each business wants to develop well and the company must have a healthy atmosphere.
Huawei's convening of the Manifesto Conference is intended to supervise the top management of the company to strictly follow the "Declaration of EMT Self-discipline". It is understood that as early as 2005, Huawei executives were aware that the company's greatest risk came from the inside, and it was necessary to maintain the importance of honesty and self-discipline among the cadres.
From the wind, it comes from. The veteran giants Lucent and Siemens have fallen, and a series of corruption scandals from these companies have brought inspiration to the industry. Internal corruption breeds problems that can lead to the ultimate destruction of companies.
What corruption brings to the company is a heavy price. Lucent obviously did not realize the importance of integrity. As early as 2004, Lucent was exposed to internal corruption, making the company notorious. Lucent not only lost a lot of manpower and material resources, but also made the company's internal corruption of the executive hate. The former giant Lucent seems to have become a deflated ball overnight, no longer glorious past.
The giant fell and Huawei watched it and put it into action. In 2005, the senior management of the company was alert to the company's greatest risk from the inside. Maintaining the integrity and self-discipline of the cadre team is the foundation for the company's rapid development. In 2008, the Siemens executive bribery case caused even Huawei to take the road of honesty and self-discipline. All kinds of corruption problems caused by the bribery case were temporarily faced by Siemens. According to investigations, Siemens' branches in some countries have found that executives have corruption, bribery, etc., and all kinds of problems are like "malignancy." Almost to Siemens's life.
Corrupt viruses are raging, but they still do not break Huawei's self-regulation immunity. Since 2007, Huawei held the first ever "Oxygen Declaration of Self-determination" oath congress. It shows that the top leaders start from themselves, strictly self-discipline, unite themselves, and focus all their efforts on the company's business development. This activity has been institutionalized within Huawei and is still in place today.
For Huawei's old rival, ZTE, the former "kind type" seems to be left with only empty shells. There were employees who revealed that the underlying reason behind ZTE's 1.7 billion huge loss was more due to internal causes such as cross-shareholdings, related-party transactions, and interest-bearing transfers, such as high-level greed and corruption. And this also led to staff discussion: the company executives desperately sought gold, the bottom staff complained. This is the internal management of ZTE, and the serious lack of self-discipline of senior executives. The corruption of executives is a result of the company's failure to trust employees, which will inevitably lead to the demise of ZTE.
Earlier reports said that ZTE's booming period was primarily to satisfy the interests of senior management and shareholders, and employees did not share benefits. Due to management's blind pursuit of personal interests and disregard for the growth of the company, ZTE also lost the opportunity for overseas development. All of them are seriously short-circuited due to the internal anti-corruption awareness and self-discipline awareness of ZTE, and "internal concerns" lead to "external problems". However, the difference in corporate culture is directly reflected in the 2012 performance transcripts. Although Huawei and ZTE both faced frequent encounters with overseas development during last year's development, ZTE was deeply trapped in a quagmire of losses and sold its subsidiaries three times.
Looking back at the industry, a series of problems exposed by companies such as ZTE, Lucent, and Siemens indicated that the lack of a self-discipline system for managers has led to deeper internal contradictions that have affected the fate of the entire company.
Thousands of miles of dykes are destroyed by ants. Regardless of past or present, Huawei's continued development has set a remarkable example for both the communications industry and Chinese companies, and has long realized that the company's biggest risk comes from within, and eliminates corruption issues from the management and the system. Just as the recently heated book asked "Is it the next Huawei to fall?" It is clear that Huawei executives have already realized that Huawei is not someone else but only himself.
Technical Parameters
Multi language: English/Spanish/Russia/Inter.char.set-..
1)High Brightness, user can change the advertising words whatever you want, easy and convenient in operation, more attactive compared with traditional banner.
2) The led moving sign display supports many kinds of languages and characters.
3) A lot of lively animation icons are built-in. 50 and more action effects for user option; Different brightness can be adjusted in software.
4) Time clock format, support date, countdown and any other odditional functions like temperature and humidity. Voltage input: 220v or110v.
5) led moving sign display Structure: well appreance frame, professional pendents, standard connectors and other accessories.
Usage
Service propaganda in finances, post offices, telecom, commerce, hospitals, sports stadiums
Policies and decrees issued from government organizations
Instructions, guidance and information issuance in airports and railways
Technical features
1. Preeminent effects: Clear and stable pictures without distortion and disturbance.
2. High quality: adopting first-class chips and wafers imported from abroad
3. Flexible form: continuity, overlying, combination of dynamic and static playing, various effects include rolling moving, typewriting, gradual changing and so on
4. off-line running function: adopting the monolithic design technology and computer string communication way, which can operate in off-line state setting the dates and revising a data via the telephone line
Our service
1.Your inquiry related to our products or price will be replied in 24hrs
2.OEM&ODM,any your customized lightings we can help you to design and put into product
3.Protection of your sales area,ideas of design and all your private information
4.Top Quality+Reasonable Price+Responsible After Service=Successful & Win
5.Produce all kinds of Pitch: P4.75, P7.62, P10, P12, P16, P20, P25, P31.25...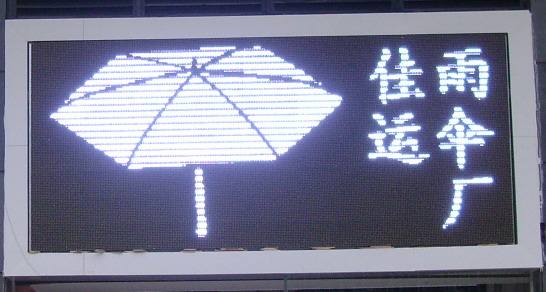 Outdoor Single Color LED Display
Outdoor Single Color Led Display,Led Display Board,Outdoor Led Display Screen,Single Color Led Moving Display
Shenzhen Joy LED Display Co., Ltd. , https://www.joe-led.com