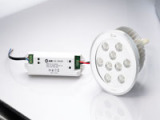 At present, traditional lighting still occupies an absolute market share, and the market penetration of LED lamps is still very low. According to the latest information, the market penetration of LED lamps only accounts for about 7%. The main reasons are as follows:
1, LED lighting prices are high. The price of 5W LED bulbs currently sold in KA stores is between RMB 60-70, while the price of ordinary energy-saving lamps with the same efficacy is between RMB 7-15. The price difference between the two is several times. At the same time, the packaging description of LED products is also too simple and does not allow consumers to have a complete understanding of the product.
2, promotion lag. At present, there are thousands of downstream manufacturers specializing in the production of LED lighting fixtures in the Mainland, but there are only a few businesses specialized in LED product management in the terminal market. At this stage, in addition to government policy support, and
Other
forms of market promotion are lacking, terminal companies visited by GLII learned that most businesses themselves have insufficient awareness of LED lamps, resulting in the inability to properly communicate LED lamps to end consumers. Advantages and differences from traditional lamps.
3, retail distribution is not effective. There are a large number of traditional lighting products sold in general KA stores, but the distribution of LED lamps is very limited. At present, there are only a few branded LED lamps in the large-scale stores in mainland China, such as Carrefour and Wal-Mart, and there are only a few brand names in the distribution chain, including Judo, Cabot, Firefly, and BYD.
At the same time, these brands did not configure the relevant pre-sales service personnel in the stores. When terminal consumers purchase lamps and lanterns, LED lamps and lanterns are also unattractive. Compared with traditional lighting brands, LED brands do not have market reputation and influence. Traditional lighting brands such as Philips, Panasonic, NVC, Op, and Ford have a good reputation in the industry, but the promotion of LED lighting brands is still lagging behind.
End-users' perception of the lighting brand still stays in traditional lighting products, and in the market comparison, compared with the outstanding marketing ability of these traditional lighting brands, the mainland LED lighting companies have weaker system marketing and are very short-term. Difficult to seize the opportunities in market competition.
At this stage, LED lighting companies must focus on application-oriented product development, but also focus on brand building. At present, most LED lighting companies play the concepts of "energy saving and environmental protection", "low attenuation" and "long lifespan", but they are not accepted by the majority of consumers. Low-priced and low-quality products that are flooded with the market are seriously affecting LED lighting brands. Credibility.
It adopts high-quality battery monomers grouped and screened and designed by special mechanical structure to assemble all ranges of built-in BMS batteries. Our Battery Management System(BMS) are specially designed for the rechargeable batteries of battery packs used for automated guided vehicles(AGVs), electric vehicles(EVs) Batteries, electric forklifts, electric pallet trucks and other material handling equipment.
BMS For Nickel Cadmium Battery
Batterie Management System,Smart Battery Management System,Nickel Cadmium Battery Management System,Bms For Nickel Cadmium Battery
Xinxiang Taihang Jiaxin Electric Tech Co., Ltd , https://www.agvchargers.com