High-tech LED network news (Reporter Hu Yanling)
From last year to this year, "crazy" is almost synonymous with the LED industry. With the release of consumer demand, the accumulation of capital, overwhelming advertising, and the change of the horse-like lights have become the most dominant footnotes in this industry. The LED industry is in an era of warring states. In such an impetuous environment, every LED company experiences more or less the growing troubles.
The fast-growing packaging companies have encountered such bottlenecks: the rapid expansion of the industry has encountered market price wars, and the prices of packaged products have continued to decline. In the face of this situation, whether or not expansion has become a difficult problem for SMEs.
Rapid expansion to bury shadows
According to the statistics of the High-tech LED Industry Research Institute, the output value of China's LED midstream packaging industry in 2010 has reached 27 billion yuan. Affected by the huge decline in LED prices, China's LED packaging output value will reach 35 billion in 2011, 2012 data will be strong growth to 55 billion, because the global lighting market development will be more objective next year, and the packaging industry of foreign large enterprises will Accelerate the transfer to the Chinese mainland.
The following are China LED production and forecasts: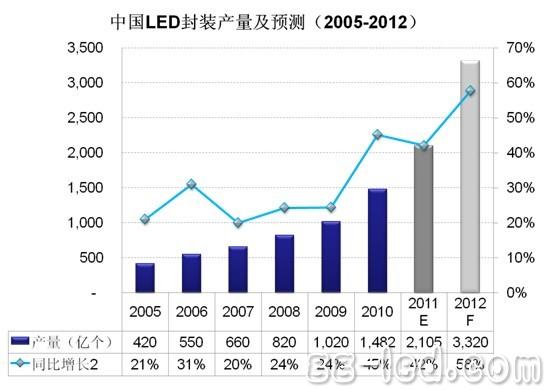 However, such glamorous performance can not conceal the small and scattered embarrassing situation of the domestic LED packaging industry. The data shows that there are about 1000 LED packaging companies in the country, with an annual revenue of more than 100 million yuan and only 40, and most of the company's revenue is only It is a million yuan level.
"In the case of low gross profit, scale is the basis for the survival of packaging companies. Packaging is only a processing process in the middle of LED. Only when scale can reduce production costs to a minimum, it is possible to maximize profits." Zhang Hongbiao, director of the Industrial Research Institute, said so.
The rapid expansion of the industry has brought down the risk of price down. Insiders pointed out that raw material prices have risen, but the price of packaged products has been declining. Domestic packaging companies are entering the low-cost homogenization of the Red Sea.

The bending and forming of the metal plate is carried out on the bending machine. Place the workpiece to be formed on the bending machine, lift the brake shoe with the lifting lever, slide the workpiece to the proper position, and then lower the brake shoe to the workpiece to be formed, and realize the bending of the metal by applying force to the bending lever of the bending machine.


Sheet Metal,Forming Mount Unit,Laser Cutting Cover,Sheet Metal Forming Process
Dongguan Formal Precision Metal Parts Co,. Ltd , https://www.formalmetal.com