[High-tech LED News] On May 15th, the white light package engineer exchange meeting hosted by Taiwan Hongda Trading Co., Ltd. and co-organized by Dongguan Hongcheng Photoelectric Co., Ltd. was held in Shenzhen. Zheng Weiyuan, the general manager of Hongdae Trading Co., Ltd., first entered the mainland for more than a decade, and communicated with the mainland white light engineers. The exchange attracted more than 400 white light engineers from more than 300 companies across the country, including Hongli Optoelectronics, Wanrun Electronics, Lehman Optoelectronics, Zhaochi, and Ruifeng Optoelectronics.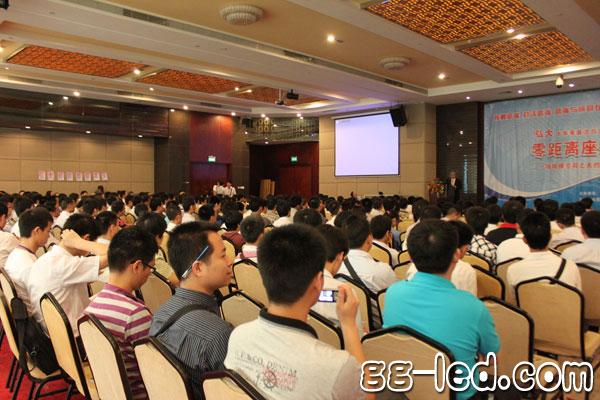 Hongdae seminar site

With the prosperity of LED lighting, the packaging industry has also developed rapidly. Phosphor is an indispensable accessory in the LED industry. It plays an important role in lighting technology and affects the development of the entire industry. The exchange invited Taiwan's cross-strait semiconductor industry standard formulation participants Dr. Zhang from Taiwan Industrial Technology Research Institute and Dr. Yang, senior packaging expert from Taiwan Academia Sinica. Dr. Zhang shared the experience of LED phosphor particle size identification and effective verification of materials. Dr. Yang also shared his valuable experience in LED packaging for 20 years. As well as many Hong Kong and Taiwan, mainland LED industry experts and their corporate leaders, senior engineers, etc., focus on the latest developments in phosphors and patent knowledge, analyze the opportunities and challenges faced by LED development at home and abroad, and focus on the packaging industry The problem is on-site communication.
At the meeting, Hongdae released several new phosphors recently developed. Zheng Weiyuan told the Gaogong LED reporter that phosphor production requires not only technology but also skills and experience. The mainland has always been an important market for Taiwan's Hongdae. In the future, Hongdae will pay more attention to the mainland market, and has successfully registered the Hongdae phosphor trademark in mainland China, and has also formed a rich product line based on the real needs of the market.
Hongdae is the general agent of Japan's fundamentally special chemistry Asia Pacific region, established in 1962. In response to the counterfeit and shoddy products currently on the market, Hongda pioneered the model of counterfeiting and inferior trademarks, and at the same time established the website For the majority of users to carry out anti-counterfeiting verification and timely release information, with transparent management to promote the development of anti-counterfeiting work.

Led High Bay lighting is an energy efficient solution to unique high-bay environments which include warehouses, factories, gymnasiums, workshops, plants, supermarkets, distribution centers, sports fields, squares, public areas, airport halls, and construction fields. Using independent development fin radiator, big heat dissipation area, good air convection performance. High color rendering index (CRI) led chip, stable light color, no glare and more favorable visual health. Multiple beam angle options (60°/90°/120°) are available to meet various applications based on lux requirements.
Led High Bay Light,High Bay Light,High Bay Led Lights,High Bay Lamp
Guangdong guangzhidian lighting Co., Ltd. , https://www.gzdlighting.com